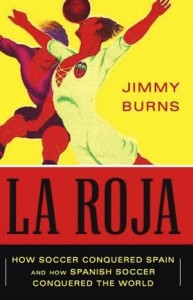 So many books, so much to choose from, etc. (Hopefully, too, somebody, somewhere, has my book The World is a Ball on a Best Soccer Books list.) Number four.
La Roja: How Soccer Conquered Spain and How Spanish Soccer Conquered the World (Nation Books) by Jimmy Burns.
Jimmy Burns, a man whose family played a role in Spain's bitter history in the 20th cenutry, is always good on the Spanish game. Here, in a scholarly book that begins with the arrival of football – in the mines of Andalusia, near Seville and hard by the Portuguese border – he traces the often dark ebbs and flows of the game that Spain made its own. And now dominates. What begins as a meandering journey – for football in Spain and for Burns as he traces it – becomes a fabulous, passionately told narrative. The astonishing dominance of Real Madrid in Europe for the longest time. The end of Franco and the extraordinary shift in Spain's footballing style. No one can explain all the subtle, mercurial shift with veracity, but Burns pulls the threads together, with aplomb.