Posts under 'Television'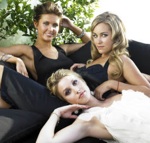 John Doyle
The Globe and Mail
Published on Thursday July 15, 2010
Who coined the line "Summertime and the livin' is easy"? Get outta town, whoever you are.
This is no easy summer in the TV racket and on this beat. Day and night, I'm inundated with news, asked to write about this or that, get up at an unholy hour of the morning and pontificate about events on some early-morning TV or radio show.
It's all about change, isn't it? Meanwhile, everybody is moseying along thinking that some things never change. You go home, turn on the TV and, failing to find anything new, you turn to CNN. Might be some news story you need to know about. And there is Larry King, having dragged his bag of bones into the studio again and been propped up to interview someone he has interviewed about 24 times over the years. If it's a woman, he might even have been married to her at one point. Things change – soon enough, you will be denied this experience.
What does it all mean? Maybe it doesn't mean anything. Let's trawl through the changes looking for clues. Continue reading